"Email Marketing is the fastest, most cost effective route to reach a high calibre audience who are all active jobseekers"
Targeted Email
A Targeted Email Campaign is great for targeting specific jobseekers with jobs that match their search criteria. A targeted email significantly increases visits to a vacancy.
Who will you target?
Our database of ACTIVE jobseekers have chosen their search criteria and requested job specific emails from Jobsgopublic and our network partners.
The email will be Jobsgopublic branded to ensure jobseekers are aware that they have subscribed to the content.
You can select which regions and sectors to target to ensure you pinpoint the most relevant active jobseekers in the most cost effective way possible.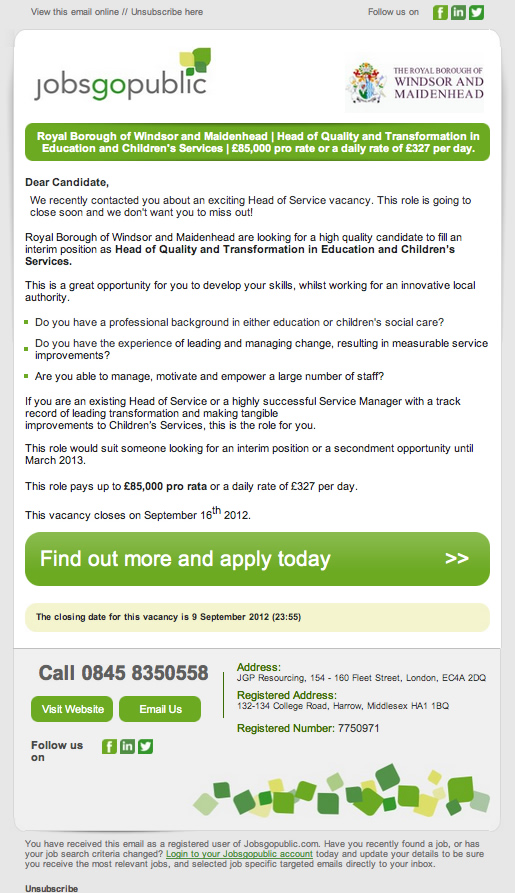 Why it is so effective?
With over a quarter of a million registered jobseekers, we can effectively target them on their search criteria that they have specified in their saved search information.
Statistical reporting is provided post campaign so that you can view the effectiveness and click through rate (CTR) of your email campaign.
Our email-marketing specialists will assist you in amending the content of the email to ensure it is specific to the intended audience. Our experience has shown some of our email open rates are in excess of 29% (industry average for recruitment emails is 15%).
For more information contact our team today
E: sales@jobsgopublic.com
T: 020 7884 3393